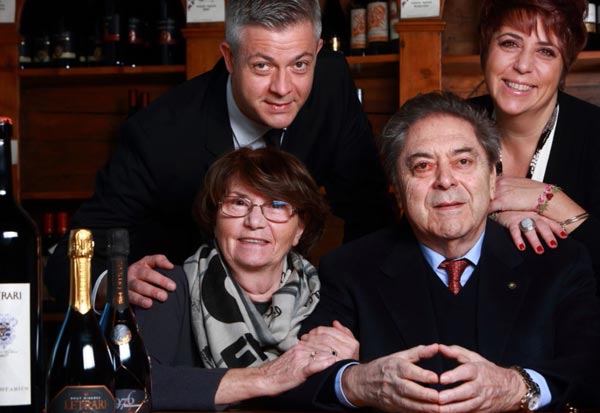 Letrari
The Letrari family is a family that has its roots in the history of Trentino wine. Thanks to Papa Leonello, in the immediate aftermath of the war, the wines of the Dolomites acquired character and prestige that transcended regional borders. It was he again who "created" the first grapes, and in the 1960s began to develop fine sparkling wines. Then, in 1976, together with his wife, he founded the current family business. Today the management is entrusted to his daughter Lucia, an oenologist like her father, and to her brother Paolo Emilio. Wines and Trentodoc come from grapes produced in our 12 hectares located in the most suitable areas of the Vallagarina where the terroir and microclimate - characterised by the mountains, the Adige and the influence of the Ora del Garda - make it unique, almost Mediterranean. Since our foundation, all our commitment has been dedicated to offering our admirers high quality products and to the desire to share with them, together with the territory, our personal philosophy on the art of making wine. Our winery, based in Borgo Sacco di Rovereto, is surrounded by a vast garden filled with Mediterranean species where all year round we welcome connoisseurs of good wine who can visit the vineyards, the winery and of course taste the wines in the tasting room or in the new wine garden in the summer season.
Letrari
Rovereto (TN) Italia
Via Monte Baldo, 13/15
Tel. +39 0464 480200
info@letrari.it
www.letrari.it

TRENTO DOC
Light straw yellow colour with bright, golden glints. Good, delicate intensity on the nose, with faint hints of apple, pineapple and bread crusts. The flavour is rich, crisp and lively, with pleasant fruity notes that recall the sensations on the nose, well-balanced, with full body and persistence.

TRENTO DOC RISERVA
A slightly bolder, bright and lively golden yellow in colour. The bouquet offers a range of aromas, from bread crusts to hints of vanilla, with undertones of cream of ripe apples and dried fruit (hazelnuts). The flavour is full, round and complex, with notes of ripe fruit enhanced by overtones of citrus and spices.

TRENTO DOC DOSAGGIO ZERO
Straightforward, decidedly natural as evidenced by its iridescent straw yellow colour, waiting to amaze with its soft mousse and innate dynamism that makes it long-lasting and persistent. It has a good, fine intensity on the nose, with light hints of apple and bread crust. Equally delicate in flavour, citrus and pure pear tones, creamy in its deep vinosity, which is certainly refreshing, reinforced by the well-blended carbon dioxide to make it really easy to drink.

BRUT ROSÈ
A delicate but brilliant pink colour, an intense, fine bouquet, with dominant notes of small red and velvety fruits. It is dry, clean and elegant on the palate, with delicate undertones of sweet almond and aromatic musk, remarkable persistence. The finish is intense with hints of tangerine, pomegranate and cherry.

CABERNET FRANC
The compact ruby ​​red colour highlights the great consistency of this wine. Precise, fine and full of character, with sensations of balsam, and fresh vegetable notes of rocket and tobacco that develop on a background of red fruit confit.

BALLISTARIUS
A ruby red coloured wine with garnet reflections. Its decisive character is immediately apparent in the complex fragrances, which include notes of vegetables and hints of dark plum confit, blackcurrant and tamarind syrup, with subtle but clear undercurrents of spicy pepper and a clearly defined finish with notes of wood and liquorice.