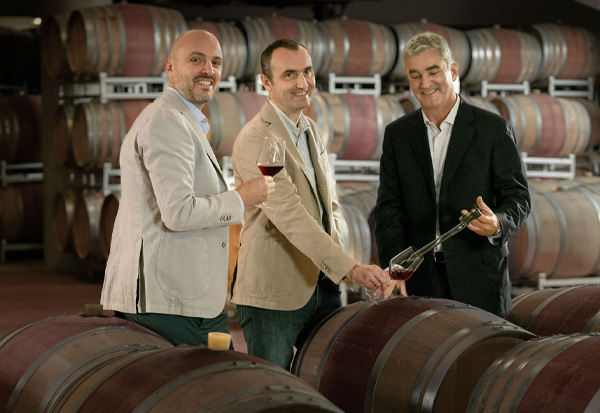 Cavit
A leading name in the Italian wine sector, Cavit is an exemplary second-degree Consortium, located in the heart of Trentino, in Ravina di Trento. It brings together eleven social wineries in the region, connected to more than 5,250 winemakers in the province, from which it receives and selects the raw materials produced, controlling each phase from harvest to marketing. With a vineyard area equal to more than 60% of the entire Trentino vineyard area, Cavit is a unique example in Italy of expertise in the most advanced viticulture techniques and avant-garde oenological research.
Cavit
Ravina (TN) Italia
Via del Ponte, 31
Tel. +39 0461 381711
cavit@cavit.it
www.cavit.it

TRENTO DOC ALTEMASI
Straw yellow with greenish glints. A complex, very fine scent, with pleasing fruity notes of citrus and peach. Dry taste, pleasantly cool, with a good, balanced structure.

TRENTO DOC RISERVA GRAAL
Straw yellow colour, with golden glints. Intense fragrance, with notes of apple and peach, accompanied by hints of dried fruits, such as hazelnuts and cocoa. Balanced and embracing on the palate.

SCHIAVA GENTILE
Bright, vivid rosé colour, fragrant with a fruity timbre, low alcohol content, dry taste with a pleasantly bitter almond background. This wine is at its best when drunk young.

CABERNET
Ruby ​​red colour, intense fragrance of berries well integrated with hints of toasted vanilla and spices. The presence of sweet tannins renders the taste velvety, but decisive.

4 VICARIATI
Bright ruby red colour. Plum, blackberry, tobacco and balsamic notes. The taste is well-balanced: soft with noble tannins, spicy and enveloping at the finish.