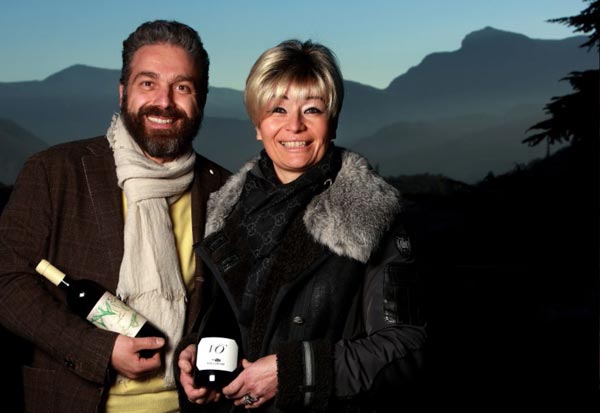 Vallarom Biological Agricultural Firm
This family-run business adopts a philosophy of low production volumes combined with the utmost respect for the balance of nature, resulting in a natural, balanced, full-bodied, fragrant wine that also ages well. The company stands on a limestone alluvial fan and a rare Norico moraine: by combining these essential elements, selecting the most suitable vines, controlling yields, ensuring the quality of the grapes and enlisting the help of science where necessary, it may be said that the cultivation has borne fruit Following the 2011 harvest, the Vallarom Agricultural Farm was awarded organic certification by ICEA (Institute for Environmental and Ethical Certification).
>Vallarom Biological Agricultural Firm
Avio (TN) Italia
Frazione Masi, 21
Tel. +39 0464 684297
info@vallarom.com
www.vallarom.com

VINO FRIZZANTE METODO FAMILIARE
The idea of producing this wine was born out of my origins, which lie partly in Avio and partly in Modena. This inspired me to follow the vocation of the territory in producing white wines with excellent acidity, well suited for bottle refermentation and the traditional method for producing sparkling Emilian Lambrusco, leaving the sedimented yeast in the bottle.

VO' SPUMANTE DOSAGGIO ZERO
This is a wine obtained by bottle refermentation using the classic method. The 100% Chardonnay grapes from the top of the Lavine vineyard are harvested by hand early in the morning and transported to the cellar quickly in small crates.

CHARDONNAY
It is produced from a selection of the best Chardonnay grapes that lend it a structured fragrance, with a light vanilla aroma, and hints of smoke and hazelnut.

PINOT NERO
The Vallagarina Pinot Noir has an intense fragrance of black cherry and small fruits, the flavour is harmonious slightly tannic, spicy, with bitter aftertaste.

FUFLUS
A bold ruby red wine with a rich, complex fragrance of red fruit confits, balsamic herbs, pepper, wild spices and coffee.