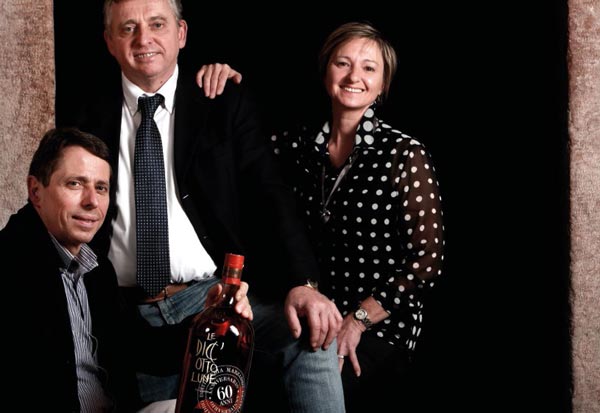 Marzadro Distillery
The history of Marzadro Distillery goes back to 1949, in Brancolino di Nogaredo, in the heart of Vallagarina area, in Trentino. A pioneering beginning, founded on tenacity, stamina and many promises, all of which have been kept over the years. Attilio Marzadro is the leading player in this story, along with his sister Sabina. Thanks to his skill in acquiring a centuries-old art, he was able to cultivate the land so as to obtain the ideal marc for the distillation process from his vines. The Marzadro family, which now extends to three generations, has preserved the heritage of traditions, through commitment and professionalism, and constant innovation.
Marzadro Distillery
Nogaredo (TN) Italia
Via per Brancolino, 10
Tel. +39 0464 304554
info@marzadro.it
www.marzadro.it

MOSCATO IN PUREZZA
Grappa made from fresh Muscat marc, typical of the Vallagarina area (Trentino). Produced by water-bath distillation in pot stills. Soft, aromatic.

NOSIOLA IN PUREZZA
Grappa obtained from fresh Nosiola marc, typical of the Valle dei Laghi area (Trentino). Produced by water-bath distillation in pot stills. Dry, persistent.

ANFORA
Grappa aged for 10 months in terracotta amphoras. A blend of typical Trentino vine varieties: Teroldego, Marzemino, Merlot, Chardonnay, Müller Thurgau and Muscat. Particularly soft and elegant.

LE DICIOTTO LUNE
Grappa Stravecchia obtained from Trentino marc: Marzemino, Teroldego, Merlot, Muscat and Chardonnay. Aged for 18 months in oak, cherry, ash and acacia barrels. Soft, dry.

GIARE GEWÜRZTRAMINER
Single vine Gewürztraminer grappa. Aged 36 months in 1,000-litre oak barrels. Delicate, harmonious.