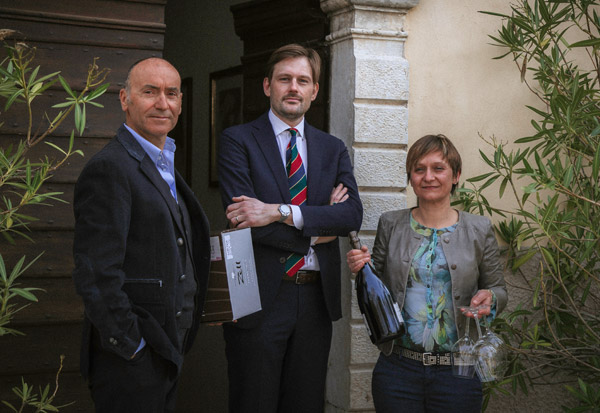 Cantina Sociale di Trento
Cantina Sociale di Trento was founded on 17 October 1956 when a notarial deed was registered by 11 farmers from the city of Trento.

The partners (400 families) of Cantina Sociale di Trento manage the precious vineyard territory that extends around the town of Trento, on the hills that adorn the city and in the Vallagarina. Each partner has a deep-rooted winemaking culture, which has been passed down over the years from father to son, capable of expressing a deep and direct feeling with the territory, as our wines do.


Cantina Sociale di Trento
Via Dei Viticoltori 2-4 – TRENTO – Italia
Zona Industriale 2 – VOLANO (TN) Italia
Tel. +39 0464 411000
commerciale@cantinasocialetrento.it
www.cantinasocialetrento.it

ZELL BRUT TRENTO DOC
The Chardonnay grapes selected for the cuvée are grown exclusively in the vineyards of the locality Zell, in Trento, at the altitude of 500 above the sea level, an area which is renowned for the cultivation of grapes to be used for the sparkling wines. Elegant on the nose, fruity and fragrant, with a light hint of yeast. Fresh, mineral and good structured on the mouth.

GEWÜRZTRAMINER GOCCIA D'ORO
Golden in colour, with a unique fragrance, with hints of rose, clove, and speck. Mineral on the mouth, persistent and weighty, with a full fragrance.

ZIRESI MARZEMINO
The grapes are grown in the area of Ziresi, where Marzemino has been cultivated for a long time. This area is situated in the municipality of Volano. The name Ziresi means cherry-tree in Trentino dialect and it is due to the fact that on the border of the vineyards there are several cherry-trees. Ruby red in colour, the wine is reminiscent ofviolet on the nose, delicate on the mouth, inviting, with soft tannins.

PINOT NERO HEREDIA
Light ruby red in colour, characteristic for Pinot Nero. Fruity on the nose, with scents of cherry and red berries. Warm, elegant on the mouth, with a light note of anchovy on the final.

MORI VECIO RISERVA
The name Mori Vecio indicates the origins of the cellar. These Red DOC Reserve grapes are harvested by hand in small crates.