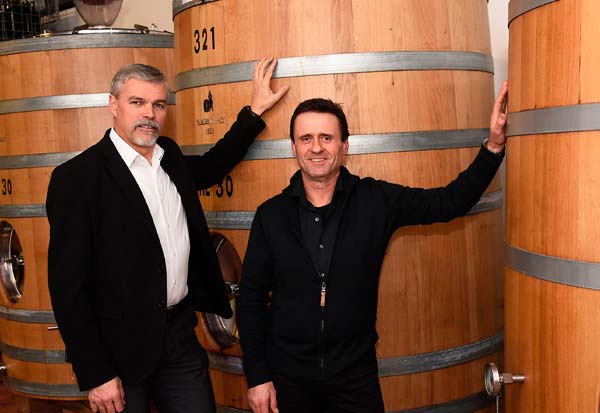 Aldeno Wine Cooperative
The ancient wine-making tradition that distinguishes the Aldeno Wine Cooperative has been combined seamlessly with the latest technologies and processing plants. Still today, beside the shiny stainless steel vats and barrels, the ancient oak barrels continue to be used for ageing the finest red wines. The Cooperative is particularly renowned for its Merlot, which is used for the vast bulk of production, and which takes pride of place every year when the Aldeno Wine Cooperative participates in the Italian Merlot Exhibition. During almost one hundred years of history, the Aldeno Wine Cooperative has collected innumerable national and international awards, which confirm the consistency and quality of its products.
Aldeno Wine Cooperative
Aldeno (TN) Italia
Via Roma, 76
Tel. +39 0461 842511
info@cantinaaldeno.com
www.cantinaaldeno.com

TRENTO DOC
Straw yellow colour; fine persistent pérlage. The aroma is intense with hints of wild flowers, apple blossom, honey and almonds, while the taste is full and elegant, with a delicate almond and yeast background.

MÜLLER THURGAU
Straw yellow with greenish glints. Its fragrance includes hints of nettle, elderberry, sage and rosemary with citrus notes, while its taste is fresh and sapid, with excellent persistence.

MERLOT ENOPERE
The persistent and intense fragrance of redcurrant, bilberry, with traces of liquorice, render this wine produced from Merlot grapes distinctive and unique.

SAN ZENO ROSSO
Deep ruby ​​red, tending towards garnet. Fragrance with hints of red fruits in syrup, and notes of liquorice and spices. Dry, structured, soft and persistent taste.

MOSCATO GIALLO PASSITO
Straw yellow colour. Fragrance, with hints of sage, lemon and dry tropical fruit. Aromatic, sweet, soft and persistent taste.