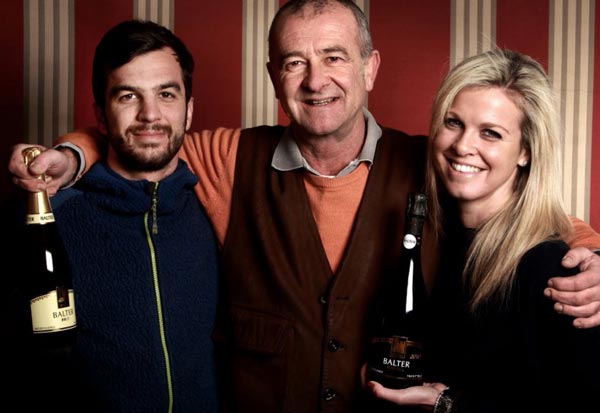 Balter Agricultural Firm
Our vineyard, which lies in a panoramic position in the Vallagarina, offers the visitor a pleasant panorama of geometric alignments. A row of cypresses leads to the small castle: a business centre, complete with an underground wine cellar housed in a sixteenth century fortified tower, offering rooms, reception and wine tasting areas in a rustic, country setting.
Balter Agricultural Firm
Rovereto (TN) Italia
Via Vallunga II, 24
Tel. +39 0464 664792
info@balter.it
www.balter.it

TRENTO DOC BALTER BRUT
The refermentation process is carried out according to the traditional champenoise method, while the wines are matured for at least 3 years before bottling.
TRENTO DOC BALTER ROSÈ
The fine pérlage is due to the perfect combination of wine and carbon dioxide, the delicate, antique rose colour is produced by a brief carbonic maceration process, while the low residual sugar content guarantees a wide appeal: thanks to these fundamental natural, this rosé elegantly satisfies the eye, the palate and the nose.

SAUVIGNON
The Sauvignon vine yields a fairly bold straw-yellow wine. It is aromatic and distinctive on the nose, with floral and fruity notes. In the mouth it is soft and velvety, with warm tones, a fine, harmonic body and usually persistent.

CABERNET SAUVIGNON
Obtained from Cabernet grapes, which are hand-picked in small crates and cold macerated for a short period.

BARBANICO IGT VALLAGARINA
The cold maceration process renders the fragrances of ripe fruit enveloping. Spicy, soft on the palate and featuring a great structure, thanks to the combination of the three ingredients: Lagrein, Merlot and Cabernet.